Rolling Footage is an experimental documentary video that aims to shed light on what daily commuting is like for many of the physically impaired people of Lagos. Primarily shot around the Balogun Market area on Lagos Island the film focuses on a subject that suffers from lower limb loss whose primary method of transport is a self-built 'skate-board'.The film comprises of two videos that run simultaneously in split screen format. The left video documents the process of the subject constructing his skate-board, while the right video captured by two subjects documents a first person and second person perspective of navigating the city on their boards.
Shot exclusively on a GoPro camera worn by the collaborators the video provides a visual perspective of Lagos that is rarely seen. One that brings the viewer literally closer to the subjects world, giving insight into the daily struggles and triumphs of the many people that inhabit Lagos with such disabilities. With many disabled people living and working around the site where the Lagos Biennial will be held, the work aims to create a bridge that connects the art experience to an under-represented aspect of everyday life, prompting a dialogue that questions city planning, social welfare and individual empowerment.
Rolling Footage - is supported by the New Art Exchange and forms part of their international initiative 'Here There and Everywhere' . The film premiered at the 2nd Edition of the Lagos Biennial 2019 entitled: How To Build a Lagoon with Just a Bottle of Wine?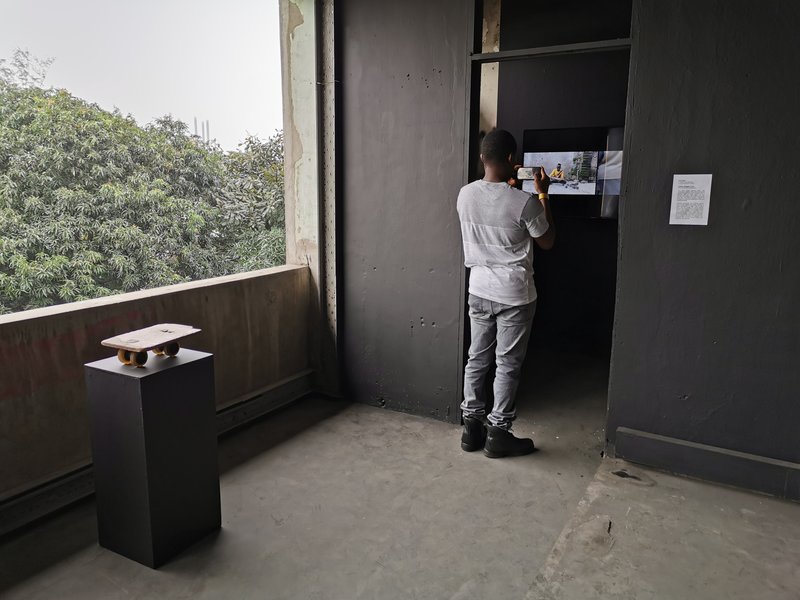 Installation shot: Visitor observing video at Lagos Biennial 2019, Independence House, Nigeria.